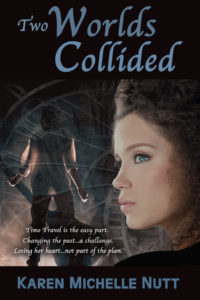 TWO WORLDS COLLIDED
Print:
$10.98
Ebook:
$2.99
#10 ISBN 1539707121
#13 ISBN 978-1539707127
#ASIN
- B01M5ENGMO
SW ISBN
-9781370872848
Heat index:
17+ years and older
Pages
: (about 63k)
Available at
:
Ebook:
Amazon
/
Amazon UK
/
iTunes
/
Smashwords
/
Nook
/
Kobo
In Print:
Amazon /
Amazon UK
/
Barnes and Noble
/
Createspace
/
Book Depository
About Two Worlds Collided:
Evie Reid on a whim agrees to travel back in time to 1997 to change bad boy Bellamy Lovel's path of destruction. She's smart with a college degree, but she is still fan-girl crazy for the rock band, Civilized Heathens. Evie knows despite all Bellamy's smiles and enthusiasm on the stage, he's destined to end it all on one lonely night in a hotel room unless she can change his path.
Bellamy isn't keen on having Evie as his personal assistant, hired by his band mates to watch over him, and keep him on schedule. However, there is something about the woman that sparks his interest, despite his best to ignore her. When darkness threatens to consume him, he realizes she may be the only light that will chase the shadows away.

A Twist of Fate
Paperback:
360 pages (approx. 91,000 words)
ISBN-10:
1607670062
ISBN-13:
978-1607670063
Print:
$12.99
Ebook
: $2.99
Print:
Barnes and Noble
/
Amazon
/
Createspace
/
Book Depository
/
E-book:
Amazon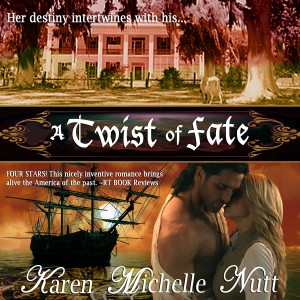 Audio version of A Twist of Fate is narrated by
Mil Nicholson
.
Audio available at:
Audible US
/
Audible UK
About the book:
Has a twist of fate sent her back in time? This is a question which plagues Arianna Ward when she wakes up to find her memory in fragments, like a long forgotten dream.
Everyone claims her name is Annabelle. The year is 1814 and she's married to Captain Keldon Buchanan, a man who despises her. The more she learns about her life, the more she realizes why she's chosen to forget it. She's a liar and an adulteress. She doesn't understand why she wanted to destroy her marriage when her heart tells her she belongs with Keldon.
Keldon harbors his own secrets. He's the Highland Pirate and secrecy is the difference between life and death. He doesn't trust his wife, but he finds his heart softening to the woman his wife has become. If he didn't know better, he'd swear he's married to another woman and he's fallen in love with her.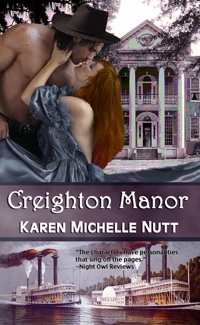 Print:
$12.99
Ebook:
$2.99
# ISBN
-ISBN-13: 978-1478339670
ISBN-10: 1478339675
#ASIN-B008QPHR1Q
Ebook:
Amazon Kindle
In Print:
Amazon
/
Createspace
/
Book Depository
About the Book
The last thing Gillian Metcalf remembers before she passes out is being aboard the Queen Mary in Long Beach, California, where she witnesses a dog disappearing as if it were a phantom. So how did she end up in 1870 and in a man's room aboard the Ida
Belle, traveling down the Mississippi?
Zachary Creighton, a gambler with one goal: to win back Creighton Manor. Marriage is not part of the plan, but since he is found with Gillian in his room, reputations are at stake, his included.To keep peace with his reluctant bride, he makes a bargain with her. He needs a tutor for his nephew Tyler, and she needs a roof over her head until they can annul their sham of a marriage. However, Zachary finds himself falling for Gillian's oddly charming ways despite the fact the woman claims to be from the future.
The gamble is trust, but will the stakes prove too high for Zachery to risk it all and win Gillian's heart?

Lost in the Mist of Time
2006 Best Fantasy Award
Print:

$32

$19.95 E-book: $9.99 $4.99

Print Book:
Amazon
/
Createspace
About the Book:
Aislinn Hennessy pens tales of courage, loyalty, and true love, but her heroes of old are pure fantasy—figments of her imagination. She long ago gave up thinking a knight in shining armor would sweep her off her feet, but then she never expected to run him off the road either.
Sir Dougray Fitzpatrick has buried one wife and vows to never love again—but destiny has other plans for this 16
th
century Irish Lord. During a battle, a mist separates Dougray from his men and casts him into the future. Dougray must return to Dunhaven and to his century, but Aislinn follows him into the mist, leaving him no choice, but to take her home with him.
Conspiracies, feuds and unexpected violence are commonplace threats, but along the way, Aislinn and Dougray discover a surprise neither one expects: a chance for love even when they're
Lost in the Mist of Time
.